Homage to my Childhood
...or "Mary come for a coffee"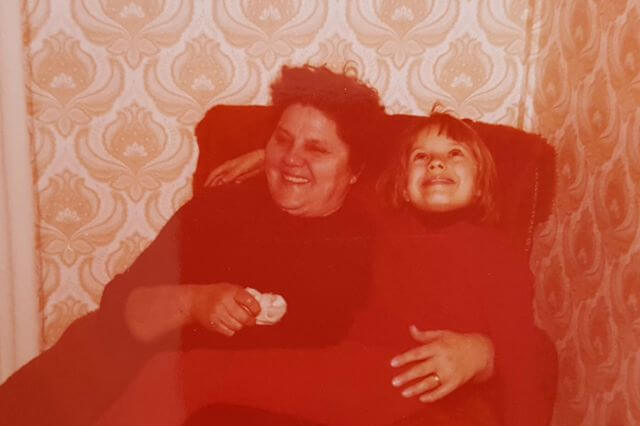 I stood on the road the other day waiting for the traffic lights to turn into green, when I noticed an old lady: she had deep wrinkles on her face, her palm over her eyes, hiding from the Sun, and also waiting for the lights to change. She reminded me of my grandma – patient, calm and stable – at least she was like that with us, grandchildren.
I spent all my summers in a small, Mediterranean town (Lovran), in the Old city. Just as building are close and trapped there, people also live similar: close, intimate and stuck together. Everybody knows all, your name, where you been, and what have you done... no hiding there.
When I was small my grandma took me to the market place and everyone greeted each other like they hadn't seen for a while, not from yesterday! We took trash out to the side of the city – and neighbours were shouting "Mary, on the way back, come for a coffee".
My grandma took me to her school, where she cleaned, and I played on the board while waiting. She accompanied me to school when rained; brought me peaches on the beach; in the evening all grandmothers sat outside and we, kids, gone crazy playing around...
When you grow (protected) like this, it all seems normal and unquestionable. Jet later you understand this way of growing up, with support and understanding of community made us people as we are today!
When I studied in London, I had hard times (no mobile phones, calls on land lines were expensive), then three pictures in my mind made me go on: my visits with grandam to the market place; early mornings on the way to school, when surfers enjoyed the waves in Preluk; and Sunday mornings when my Mum would wake me up while from the kitchen smell beautifully ... Common to all is – the sense of belonging!
Today when I visit my grandma on the cemetery, I look around and feel peaceful because all those people from my childhood are there. Once our neighbours, today neighbours on the other side. Once I will be there too, and hopefully our children will visit us. But with what feeling? Have we supported them enough? Have we gave them enough, good habits? Are they ready to keep our tradition? Do they recognize what is important? Have they felt our worries and support of individuals and community?
My grandma, and her generation, definitely gave us all. When I have hard time I go on the Market place with her and there I find my roots, good feeling and – strength to continue.
Thanks grandam, thanks to all.
Author: Klara Benko

"Ako želiš promijeniti svoj život, nikad nije kasno početi raditi na sebi. Upravo tamo, u dubini, naći ćeš sve potrebno za zdravlje i dug život. Rado ću ti pomoći na tom putu".
See all Articles: Klara